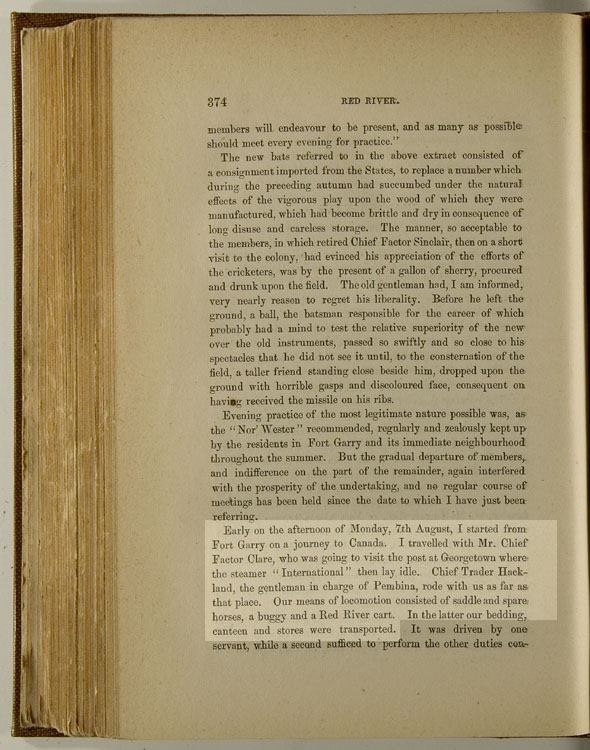 | | |
| --- | --- |
| Author: | Joseph James Hargrave |
| Title: | Red River |
| Publisher: | John Lovell, Montréal |
| Year Published: | 1871, First Printing |
| Copyright Holder: | Expired; please credit publisher as John Lovell. |


Joseph James Hargrave (1841-1894) was the eldest son of HBC Chief Trader James Hargrave and his wife Letitia. Educated in Scotland, Joseph James returned to Rupert's Land in 1861 as an apprentice clerk in the HBC, and served as secretary to his uncle, William MacTavish, Governor of Assiniboia and of Rupert's Land. In 1869, he began writing weekly articles for the Montreal Herald about the Northwest and the anticipated transfer of Rupert's Land to Canada.

His 1871 book, Red River, is regarded as the best history of Red River written in the 19th century. It is both a history and personal observation of the economic, social, political and religious life of Red River, and argues that the settlement and its institutions owed their existence to the vitality of the fur trade.

In this passage J.J. is beginning a land trip from Red River to "Canada." p374-376, 3rd pgh:"Early in the afternoon... stores were transported."

"Early on the afternoon of Monday, 7th August, I started from Fort Garry on a journey to Canada. I travelled with Mr. Chief Factor Clare, who was going to visit the post at Georgetown where the steamer "International" then lay idle. Chief Trader Hackland, the gentleman in charge of Pembina, rode with us as far as that place. Our means of locomotion consisted of saddle and spare horses, a buggy and a Red River cart. In the latter our bedding, canteen and stores were transported."




Other Related Material


Read more excerpts from Red River - enter 'Hargrave' in the search box to your left.

What does a Red River Cart look like?

What does Joseph James Hargrave look like?

Check the Beaver Index - e.g., transportation, carts, etc.