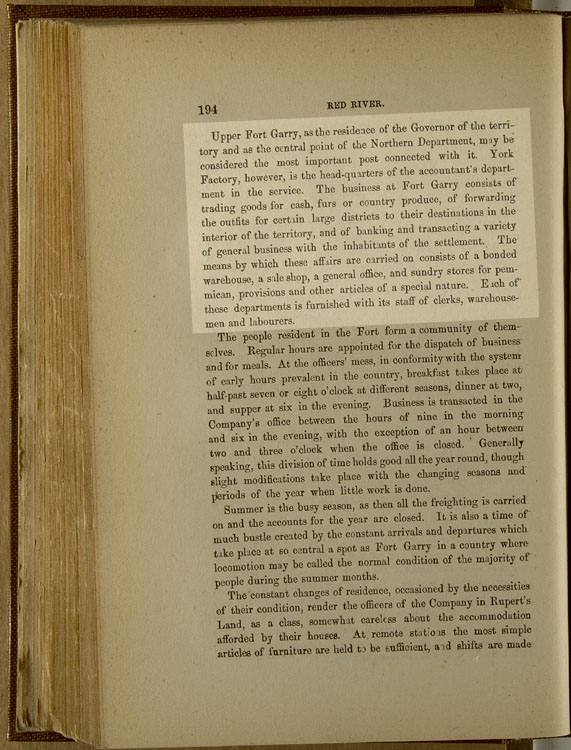 | | |
| --- | --- |
| Author: | Joseph James Hargrave |
| Title: | Red River |
| Publisher: | John Lovell, Montréal |
| Year Published: | 1871, First Printing |
| Copyright Holder: | Expired; please credit publisher as John Lovell. |


Joseph James Hargrave (1841-1894) was the eldest son of HBC Chief Trader James Hargrave and his wife Letitia. Educated in Scotland, Joseph James returned to Rupert's Land in 1861 as an apprentice clerk in the HBC, and served as secretary to his uncle, William MacTavish, Governor of Assiniboia and of Rupert's Land. In 1869, he began writing weekly articles for the Montreal Herald about the Northwest and the anticipated transfer of Rupert's Land to Canada.

His 1871 book, Red River, is regarded as the best history of Red River written in the 19th century. It is both a history and personal observation of the economic, social, political and religious life of Red River, and argues that the settlement and its institutions owed their existence to the vitality of the fur trade.

This is his description of Upper Fort Garry. p194, 1st pgh: "Upper Fort Garry... warehouse men and labourers."

"Upper Fort Garry, as the residence of the Governor of the territory and as the central point of the Northern Department, may be considered the most important post connected with it. York Factory, however, is the head-quarters of the accountant's department in the service.

The business at Fort Garry consists of trading goods for cash, furs or country produce, of forwarding the outfits for certain large districts to their destinations in the interior of the territory, and of banking and transacting a variety of general business with the inhabitants of the settlement. The means by which these affairs are carried on consists of a bonded warehouse, a sale shop, a general office, and sundry stores for pemmican, provisions and other articles of a special nature. Each of these departments is furnished with its staff of clerks, warehouse-men and labourers."




Other Related Material


Read more excerpts from Red River - enter 'Hargrave' in the search box to your left.

Read more or see images of Upper Fort Garry - enter 'Upper Fort Garry' in the search box to your left.

What does Joseph James Hargrave look like?

Check the Beaver Index - e.g., Upper Fort Garry, Lower Fort Garry, trading posts, York Factory, etc.




Did You Know?




All that survives of Upper Fort Garry is the main gate, located near the intersection of Main and Broadway in downtown Winnipeg.