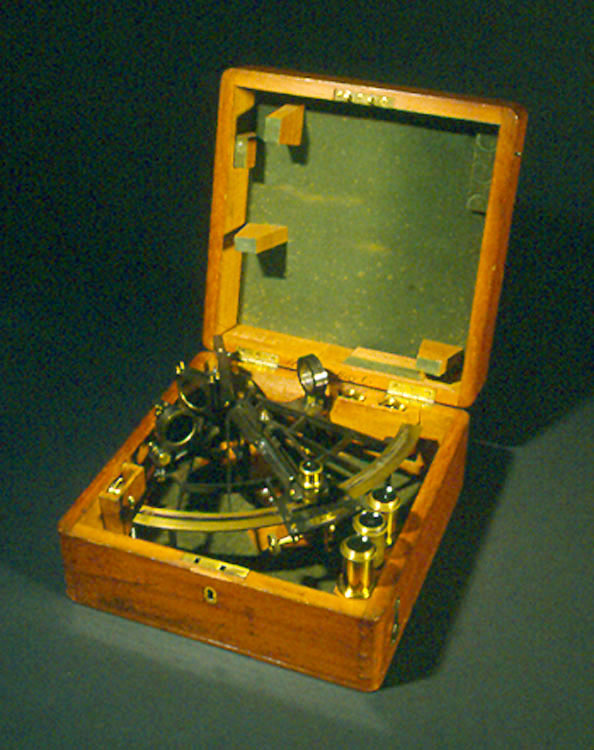 | | |
| --- | --- |
| Creator: | Negretti & Zamba, London |
| Year made: | Early 1860s |
| Dimensions: | 24.2 cm long; 21.2 cm wide; 10 cm high |
| Location: | The Manitoba Museum, Artifact HBC 98-1469 |
| Copyright Holder: | The Manitoba Museum |


A sextant in its original mahogany box containing an eyepiece, mirrors, a movable arm and a measured scale. Written on the box is the inscription "Hudson's Bay Company, May 3, 1864".




Other Related Material


Learn more - enter 'Fidler,' 'tools' or 'survey' in the search box to your left.

Check the Beaver Index - e.g., type in 'Fidler,' 'surveying,' 'maps,' etc.




Did You Know?


Sextants were used by navigators and surveyors. Made for measuring the angle between two objects, they were used at sea to calculate the altitude of the sun, moon, planets and stars in order to determine latitude and longitude.

In addition to their surveying instruments, European fur traders and explorers depended upon Aboriginal peoples for information about the land, water routes, and local resources, and for knowledge about the existence of various groups who might be encouraged to trade.

For example, Peter Fidler used maps drawn for him by Ac ko mok ki (1801), Ki oo cus (1802), and Cot aw ney yaz zah (1810). They were well-travelled and were already involved with extensive trading activities with other Indigenous peoples.

Both Aboriginal men and women also served as guides, translators and provisioners of food and clothing for the Europeans making their way across the continent.