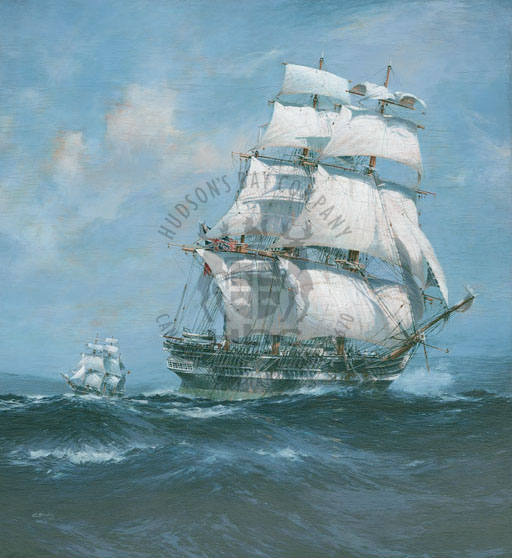 | | |
| --- | --- |
| Creator: | John Robert Charles Spurling |
| Year made: | 1926 |
| Copyright Holder: | Image courtesy of Hudson's Bay Company |


The barques Prince Albert and Prince Rupert fly the Company's colours while parting company off Mansel Island at the northern end of Hudson Bay. Every year the vessels sailed in tandem from England on a voyage of re-supply.

At Mansel Island the Prince Albert departed for Moose Factory and the Prince Rupert set off for York Factory, carrying goods and supplies for the Hudson Bay forts. Their cargoes included the staples of the fur trade: guns, ironmongery, earthenware, combs, feathers, stationery, vinegar, kettles, potatoes, tobacco, beads and other articles.

In 1845 the Prince Albert endured a very difficult journey onward to Moose Factory. Her log constantly records ice, which caused long delays. In the end, it took her 37 days to reach Moose Factory, about 800 miles south of Mansel Island, while it took only 10 days for the Prince Rupert to travel the 600 miles southwest to York Factory.

(c)Text courtesy of Hudson's Bay Company




Other Related Material


Read more about York Factory or Moose Factory - type 'York Factory' or 'Moose Factory' into the search box to your left.

It was customary to give a gift of tobacco when making new acquaintances or creating potential business relationships.

Copper kettles or pots were a favourite trade item for aboriginal people and trappers well into the 20th century.