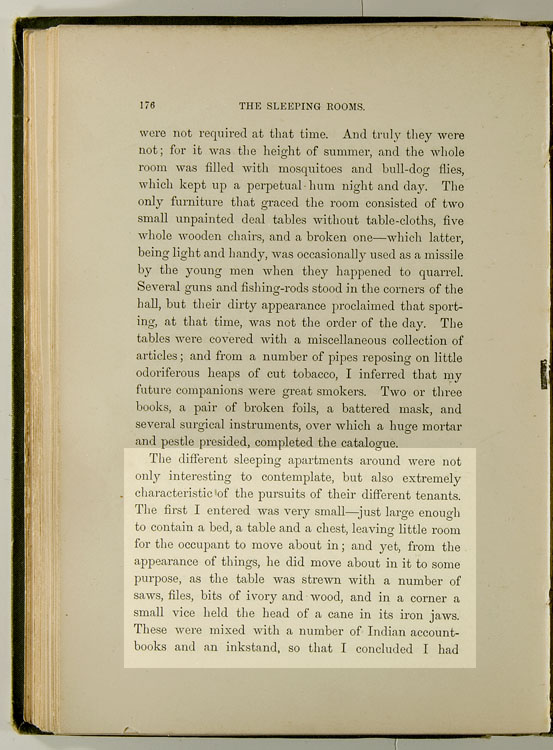 | | |
| --- | --- |
| Author: | Robert Michael Ballantyne |
| Title: | Every-day Life in the Wilds of North America |
| Year Published: | 1848 |
| Copyright Holder: | Expired; no restrictions on use. |


Robert Michael Ballantyne (1825-1894) joined the HBC as an apprentice clerk in 1841 at the age of 16. During his six years in the fur trade, he served at Upper Fort Garry, Norway House, York Factory, and Tadoussac.

Although not a very good clerk, he loved the wilderness and wrote long descriptive letters home to his mother in Scotland. He began recording his experiences in book form in 1846, and in 1848 published Hudson's Bay, or, Every-day life in the wilds of North America. He later became a very popular writer of adventure novels for boys.

This is his description of the sleeping quarters at York Factory in 1843. Beginning on page 176 ["The different sleeping apartments..."], and ending on page 177 ["rather snug than otherwise."], he describes "Bachelors Hall," in particular the sleeping apartments.

"The different sleeping apartments around were not only interesting to contemplate, but also extremely characteristic of the pursuits of their different tenants. The first I entered was very small – just large enough to contain a bed, a table and a chest, leaving little room for the occupant to move about in; and yet, from the appearance of things, he did move about in it to some purpose, as the table was strewn with a number of saws, files, bits of ivory and wood, and in a corner a small vice helf the head of a cane in its iron jaws. These were mixed with a number of Indian account-books and an inkstand, so that I concluded I had stumbled on the bedroom of my friend Mr. Wilson, the postmaster.

The quadrant-case and sea-chest in the next room proved it to be the skipper's, without the additional testimony of the oiled-cloth coat and sou'-wester hanging from a peg in the wall.

The doctor's room was filled with dreadful-looking instruments, suggestive of operations, amputations, bleeding wounds, and human agony; while the accountant's was equally characterized by methodical neatness, and the junior clerks' by utter and chaotic confusion.

None of these bedrooms were carpeted; none of them boasted a chair – the trunks and boxes of the persons to whom they belonged answering instead; and none of the beds were graced with curtains. Notwithstanding this emptiness, however, they had a somewhat furnished appearance, from the number of greatcoats, leather capotes, fur caps, worsted sashes, guns, rifles, shot-belts, snow-shoes, and powder-horns with which the walls were profusely decorated.

The ceilings of the rooms, moreover, were very low, - so much so that by standing on tiptoe I could touch them with my hand; and the window in each was only about three feet high by two and a half broad, so that, upon the whole, the house was rather snug than otherwise."




Other Related Material


Read excerpts from Robert's writings - enter 'Ballantyne' in the search box to your left.

What did Robert Ballantyne look like?

In the passage above, Ballantyne mentions amputations. After an amputation, a patient might want a prosthesis.

Which HBC calendar painting includes Robert Ballantyne?

Check the Beaver Index - e.g., type in apprentices, Ballantyne, Simpson, etc.




Did You Know?


Many young men wanted to join the HBC in the 1800s, and to get in you usually needed friends or relatives in the Company to recommend you.

Robert Ballantyne was particularly lucky in this regard: he was a distant cousin of Frances Ramsay Simpson (who was married to the HBC's Governor in North America, Sir George Simpson) and her sister, Isobel Graham Simpson (who was married to the Governor of Assiniboia, HBC Chief Factor Duncan Finlayson).