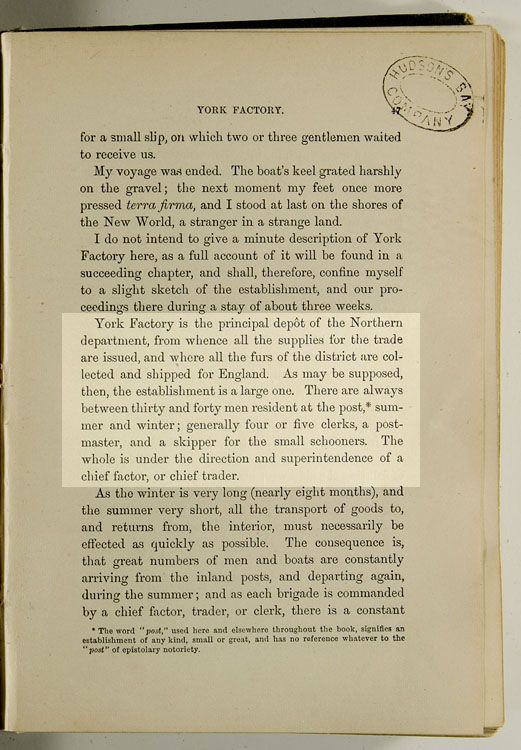 | | |
| --- | --- |
| Author: | Robert Michael Ballantyne |
| Title: | Every-day Life in the Wilds of North America |
| Year Published: | 1848 |
| Copyright Holder: | Expired; no restrictions on use. |


Robert Michael Ballantyne (1825-1894) joined the HBC as an apprentice clerk in 1841 at the age of 16. During his six years in the fur trade, he served at Upper Fort Garry, Norway House, York Factory, and Tadoussac.

Although not a very good clerk, he loved the wilderness and wrote long descriptive letters home to his mother in Scotland. He began recording his experiences in book form in 1846, and in 1848 published Hudson's Bay, or, Every-day life in the wilds of North America. He later became a very popular writer of adventure novels for boys.

On page 47, third paragraph,["York Factory… chief trader"] he describes York Factory post.

"York Factory is the principal depôt of the Northern department, from whence all the supplies are issued, and where all the furs of the district are collected and shipped for England. As may be supposed, then, the establishment is a large one. There are always between thirty and forty men resident at the post, summer and winter; generally four or five clerks, a post-master, and a skipper for the small schooners. The whole is under the direction and superintendence of a chief factor, or chief trader."




Other Related Material


Read excerpts from Robert's writings - enter 'Ballantyne' in the search box to your left.

What did Robert Ballantyne look like?

Which HBC calendar painting includes Robert Ballantyne?

Check the Beaver Index - e.g., Christmas: York Factory, by Robert Ballantyne, December 1924 and Christmas on Hudson Bay, Winter 1958.

Visit York Factory and discover the secret in the frost.




Did You Know?


York Factory was first known to the English as Port Nelson, referring to the Nelson River. The HBC's first post there was built in 1682 and destroyed by French traders in 1683. The post was rebuilt later that year, but was twice captured and occupied by the French (1694-96 and 1697-1714).

When Chief Factor James Knight took back possession of the fort in 1714, it was in such poor condition that he immediately began building a new fort. This new York Fort (as it was called) stood until it was destroyed by French warships in 1782.