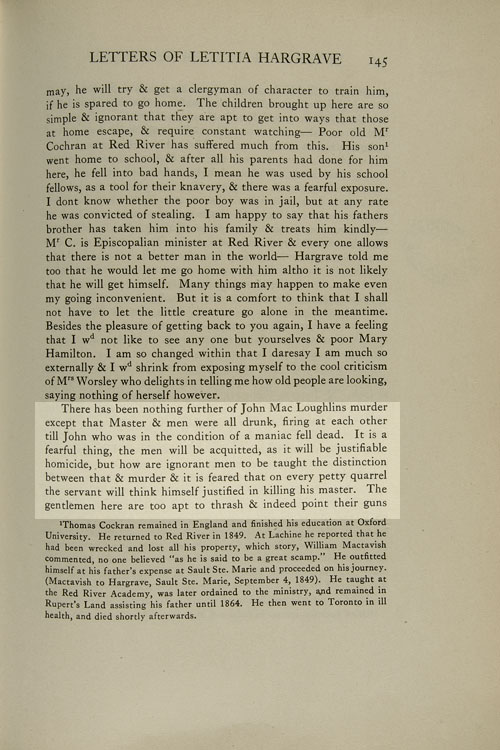 | | |
| --- | --- |
| Author: | Letitia Hargrave |
| Title: | The Letters of Letitia Hargrave |
| Publisher: | The Champlain Society, Toronto |
| Year Published: | 1947 |
| Copyright Holder: | Image courtesy of The Champlain Society |


Letitia Hargrave nee MacTavish (1813-1854) was the daughter of Sheriff Dugald MacTavish and Letitia Lockhart. In 1840, she married James Hargrave, Chief Trader for the HBC, and left Scotland for York Factory.

The letters Letitia wrote to family and friends provide us with observations of daily life that differ from the typical post journals of that time which were written by men. Her correspondence is also recognized for its importance as being one of the earliest for pioneer women in the fur trade in Western Canada. Through her letters, we can see her mature from a gawking and sea-sick newcomer to a shrewd and experienced observer of fur trade life.

10 April, 1843. To Mrs. MacTavish. P145-146, 1st pgh: "There has been nothing… do nothing else."

"There has been nothing further of John Mac Loughlins murder except that Master and men were all drunk, firing at each other till John who was in the condition of a maniac fell dead. It is a fearful thing, the men will be acquitted, as it will be justifiable homicide, but how are ignorant men to be taught the distinction between that and murder and it is feared that on every petty quarrel the servant will think himself justified in killing his master.

The gentlemen here are too apt to thrash and indeed point their guns at their men and Mr Anderson who came across from Vancouver last year was so detested that they confessed that if he had fallen into the river not one would have held out a stick to him. One gentleman actually was drowned, when he might easily have been saved without a man wetting his foot –

The truth of the matter is that it is a hideous country for man to live in and that it is yearly getting worse. Individually I have no fault to find with it, but I pity every gentleman in it. Hargrave likes this place and is perfectly contented. I am sure there is not a man in it who would not rejoice to leave it if he could.

I am as well pleased with York as at first, but I only am so from never thinking. You may believe that the eternal barreness of white water and black pines are not very enlivening to the spirits. The sky is always beautiful night or day, the Aurora being magnificent and the stars very bright. I sew from morning till night except standing on the platforms while Beppo is playing about with a host of husky dogs or digging up the snow and going out every morning with him in the carriole. I do nothing else."




Other Related Material


Read excerpts from Letitia's letters - enter 'Letitia' in the search box to your left.

What does Letitia Hargrave look like?

Check the Beaver Index - e.g., type in women, recreation, deaths, etc.





Did You Know?


The murder to which she is referring was that of John McLoughlin Jr., by some of his men at Fort Stikine (modern Wrangell, Alaska) in April 1842. Governor Sir George Simpson blamed "Mr. John" for provoking the men under his command, but John McLoughlin Sr. correctly refused to accept that conclusion.

As Fort Stikine was actually in Russian territory, there was some suggestion that the murderers be tried by Russian authorities; but in the end no one was tried for the murder, neither in Russia nor anywhere else.