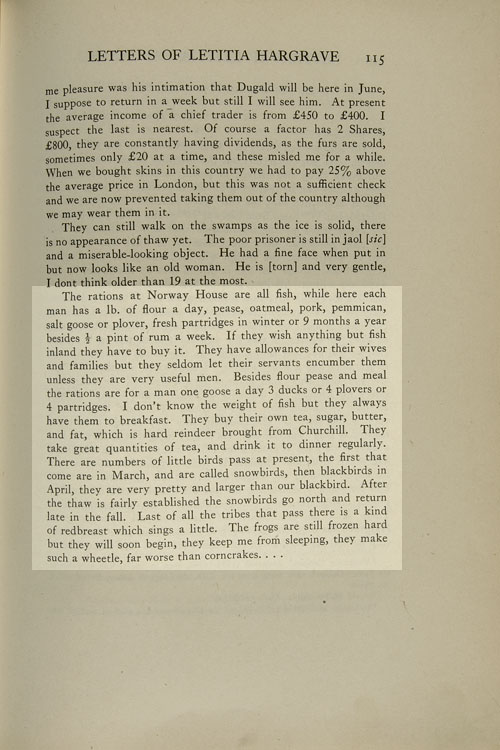 | | |
| --- | --- |
| Author: | Letitia Hargrave |
| Title: | The Letters of Letitia Hargrave |
| Publisher: | The Champlain Society, Toronto |
| Year Published: | 1947 |
| Copyright Holder: | Image courtesy of The Champlain Society |


Letitia Hargrave nee MacTavish (1813-1854) was the daughter of Sheriff Dugald MacTavish and Letitia Lockhart. In 1840, she married James Hargrave, Chief Trader for the HBC, and left Scotland for York Factory.

The letters Letitia wrote to family and friends provide us with observations of daily life that differ from the typical post journals of that time which were written by men.

Her correspondence is also recognized for its importance as being one of the earliest for pioneer women in the fur trade in Western Canada. Through her letters, we can see her mature from a gawking and sea-sick newcomer to a shrewd and experienced observer of fur trade life.

27 May, 1842. This letter to her father describes rations for men at York Factory. P115, 3rd pgh: "The rations at Norway House… corncrakes."

"The rations at Norway House are all fish, while here each man has a lb. of flour a day, pease, oatmeal, pork, pemmican, salt goose or plover, fresh partridges in winter or 9 months a year besides ½ a pint of rum a week. If they wish anything but fish inland they have to buy it.

They have allowances for their wives and families but they seldom let their servants encumber them unless they are very useful men. Besides flour pease and meal the rations are for a man one goose a day 3 ducks or 4 plovers or 4 partridges. I don't know the weight of fish but they always have them to breakfast.

They buy their own tea, sugar, butter, and fat, which is hard reindeer brought from Churchill. They take great quantities of tea, and drink it to dinner regularly. There are numbers of little birds pass at present, the first that come are in March, and are called snowbirds, then blackbirds in April, they are very pretty and larger than our blackbird.

After the thaw is fairly established the snowbirds go north and return late in the fall. Last of all the tribes that pass there is a kind of redbreast which sings a little. The frogs are still frozen hard but they will soon begin, they keep me from sleeping, they make such a wheedle, far worse than corncrakes…."




Other Related Material


Read excerpts from Letitia's letters - enter 'Letitia' in the search box to your left.

What does Letitia Hargrave look like?

Check the Beaver Index - e.g., type in nutrition, trading posts, employees, etc.