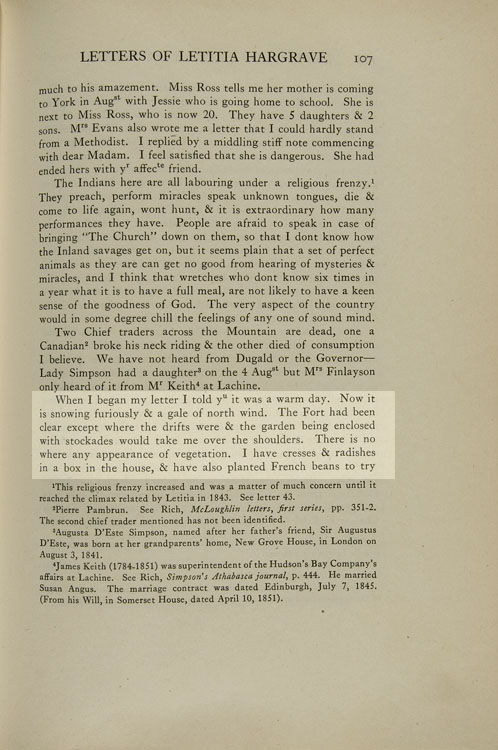 | | |
| --- | --- |
| Author: | Letitia Hargrave |
| Title: | The Letters of Letitia Hargrave |
| Publisher: | The Champlain Society, Toronto |
| Year Published: | 1947 |
| Copyright Holder: | Image courtesy of The Champlain Society |


Letitia Hargrave nee MacTavish (1813-1854) was the daughter of Sheriff Dugald MacTavish and Letitia Lockhart. In 1840, she married James Hargrave, Chief Trader for the HBC, and left Scotland for York Factory.

The letters Letitia wrote to family and friends provide us with observations of daily life that differ from the typical post journals of that time which were written by men.

Her correspondence is also recognized for its importance as being one of the earliest for pioneer women in the fur trade in Western Canada. Through her letters, we can see her mature from a gawking and sea-sick newcomer to a shrewd and experienced observer of fur trade life.

14-16 May, 1842. To Mrs. D. MacTavish. This letter contains reference to a late spring snow and the difficulties of gardening. P107-108, 3rd pgh: "When I began my letter…great fat Orkney brute."

"When I began my letter I told you it was a warm day. Now it is snowing furiously and a gale of north wind. The Fort had been clear except where the drifts were and the garden being enclosed with stockades would take me over the shoulders.

There is no where any appearance of vegetation. I have cresses and radishes in a box in the house, and have also planted French beans to try if they will come to any good. There seems to be no parsley in the country. We have spinage in August but they maltreat it, cut the whole stock boil it bodily, mash fibre seeds and all with butter and pepper. You may believe it is a pleasant dish. I really think that the cookery here will end me. It is fearful. I cant go into the kitchen and bully a great fat Orkney brute."




Other Related Material


Read excerpts from Letitia's letters - enter 'Letitia' in the search box to your left.

What does Letitia Hargrave look like?

Check the Beaver Index - e.g., type in nutrition, cooking, gardening, etc.





Did You Know?


For fur traders, cultivating romance could be as difficult as cultivating a garden in the north. James Hargrave visited the McTavish family home in Scotland while on furlough in 1837, having become good friends with Letitia's brother William while the two were serving at York Factory.

Hargrave felt that Letitia would make the ideal wife for him, but his courtship was interrupted in March 1838 when duty compelled him to return hastily to York Factory. He later proposed -- and Letitia accepted -- by mail, returning to Scotland in the fall of 1839 for their marriage in January 1840.