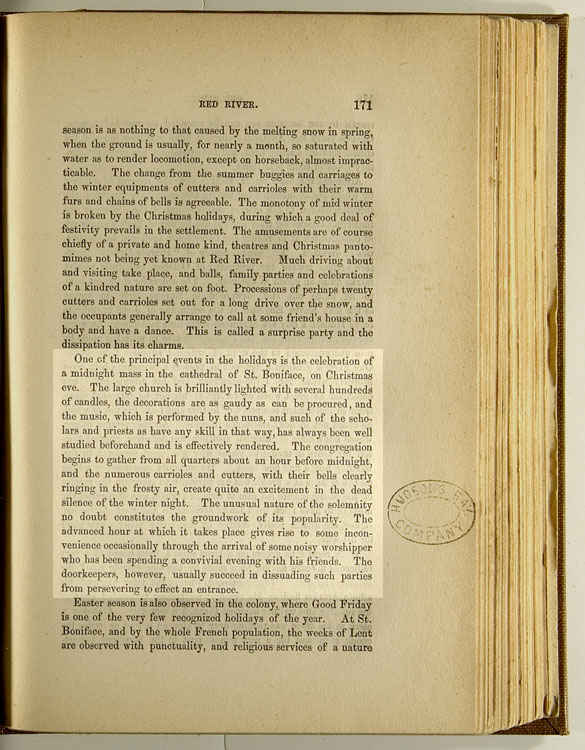 | | |
| --- | --- |
| Author: | Joseph James Hargrave |
| Title: | Red River |
| Publisher: | John Lovell, Montréal |
| Year Published: | 1871, First Printing |
| Copyright Holder: | Expired; please credit publisher as John Lovell. |


Joseph James Hargrave (1841-1894) was the eldest son of HBC Chief Trader James Hargrave and his wife Letitia. Educated in Scotland, Joseph James returned to Rupert's Land in 1861 as an apprentice clerk in the HBC, and served as secretary to his uncle, William MacTavish, Governor of Assiniboia and of Rupert's Land. In 1869, he began writing weekly articles for the Montreal Herald about the Northwest and the anticipated transfer of Rupert's Land to Canada.

His 1871 book, Red River, is regarded as the best history of Red River written in the 19th century. It is both a history and personal observation of the economic, social, political and religious life of Red River, and argues that the settlement and its institutions owed their existence to the vitality of the fur trade.

In this excerpt, Hargrave describes Christmas in Red River. p171-73 2nd pgh: "One of the principal... effect an entrance."

"One of the principal events in the holidays is the celebration of a midnight mass in the cathedral of St. Boniface, on Christmas eve. The large church is brilliantly lighted with several hundreds of candles, the decorations are as gaudy as can be procured, and the music, which is performed by the nuns, and such of the scholars and priests as have any skill in that way, has always been well studied beforehand and is effectively rendered.

The congregation begins to gather from all quarters about an hour before midnight, and the numerous carrioles and cutters, with their bells clearly ringing in the frosty air, create quite an excitement in the dead silence of the winter night. The unusual nature of the solemnity no doubt constitutes the groundwork of its popularity. The advanced hour at which it takes place gives rise to some inconvenience occasionally through the arrival of some noisy worshipper who has been spending a convivial evening with his friends. The doorkeepers, however, usually succeed in dissuading such parties from persevering to effect an entrance."




Other Related Material


Read more excerpts from Red River - enter 'Hargrave' in the search box to your left.

What does Joseph James Hargrave look like?

Check the Beaver Index - e.g., Christmas, traditions, pioneers, religion, etc.