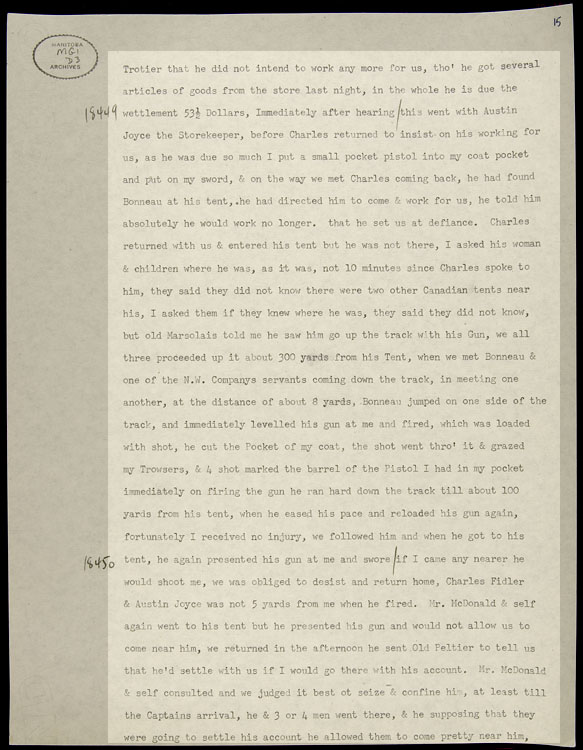 | | |
| --- | --- |
| Author: | Peter Fidler |
| Title: | Journal of Red River Settlement 1814-1815 |
| Location: | Original: HBCA - Archives of Manitoba, MG1-D3-file-2-p15-16, October 1, 1814 |
| Copyright Holder: | Expired; no restrictions on use. Please credit HBCA - Archives of Manitoba. |


This is Peter Fidler's Red River journal entry for 1 October, 1814, describing a conflict with a French-Canadian employee who refused to work to pay off his store account.

Fidler (1769-1822) had served the HBC since 1788 and at the time of this journal entry was in charge of Brandon House, although he spent much of his time helping the residents of the fledgling Red River Settlement. p15-16

"... Trotier that he did not intend to work any more for us, tho' he got several articles of goods from the store last night, in the whole he is due the settlement 53 ½ Dollars,

Immediately after hearing this went with Austin Joyce the Storekeeper, before Charles returned to insist on his working for us, as he was due so much I put a small pocket pistol into my coat pocket and put on my sword, & on the way we met Charles coming back,

he had found Bonneau at his tent, he had directed him to come & work for us, he told him absolutely he would work no longer. that he set us at defiance.

Charles returned with us & entered his tent but he was not there, I asked his woman & children where he was, as it was, not 10 minutes since Charles spoke to him, they said they did not know there were two other Canadian tents near his,

I asked them if they knew where he was, they said they did not know, but old Marsolais told me he saw him go up the track with his Gun,

we all three proceeded up it about 300 yards from his Tent, when we met Bonneau & one of the N.W. Companys servants coming down the track, in meeting one another, at the distance of about 8 yards, Bonneau jumped on one side of the track, and immediately levelled his gun at me and fired, which was loaded with shot,

he cut the Pocket of my coat, the shot went thro' it & grazed my Trowsers, & 4 shot marked the barrel of the Pistol I had in my pocket immediately on firing the gun he ran hard down the track till about 100 yards from his tent, when he eased his pace and reloaded his gun again,

fortunately I received no injury, we followed him and when he got to his tent, he again presented his gun at me and swore if I came any nearer he would shoot me, we was obliged to desist and return home, Charles Fidler & Austin Joyce was not 5 yards from me when he fired.

Mr. McDonald & self again went to his tent but he presented his gun and would not allow us to come near him, we returned in the afternoon he sent Old Peltier to tell us that he'd settle with us if I would go there with his account.

Mr. McDonald & self consulted and we judged it best ot seize & confine him, at least till the Captains arrival, he & 3 or 4 men went there, & he supposing that they were going to settle his account he allowed them to come pretty near him, when he immediately ran away towards the Canadian House, but one of our men soon caught him and he cried out for assistance from other free men who was present, but none offered him any.

they brought him to our house when we shut him up in a Cabbin in the Kitchen and kept a regular watch all night. His wife & children followed him all the way, the former brandishing a hatchet at times as if whe would do a mischief with it,

When Mr. McDonald & self went he had sent for Mr. Cameron to be interpreter, 3 more accompanied, I told Cameron what a large sum he was due us and that he had no other way to pay it but in labor, but he absolutely refused to work any longer."




Other Related Material


Read more excerpts about Red River - enter 'Red River' in the search box to your left.

Check the Beaver Index - e.g., Two Curious Fur-Trade Wills, by W.S. Stewart, June 1943; Notes of an 18th-Century Northerner, by W.S. Stewart, June 1952.






Did You Know?


One of the difficulties often faced by fur traders -- especially during the heated competition between the HBC and NWC -- was the lack of police or any other authority to enforce law and order: note that Fidler (who was a peace-loving man) took along a gun and a sword on this occasion.

Native bands had their own laws and customs, but when Europeans misbehaved among themselves they often got away with it.