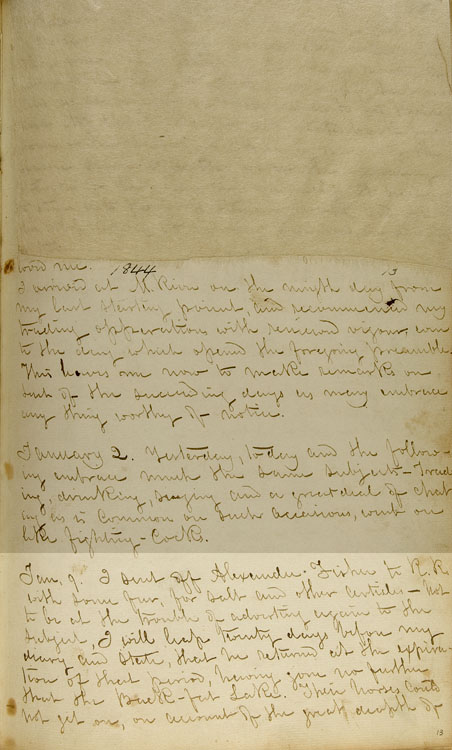 | | |
| --- | --- |
| Author: | Peter Garrioch |
| Title: | Life at the Red River Settlement |
| Location: | Original: HBCA - Archives of Manitoba, MG2-C38-p13-14, January 9 - February 10, 1844 |
| Copyright Holder: | Expired; no restrictions on use. Please credit HBCA - Archives of Manitoba. |


This is the personal journal of Peter Garrioch, kept at the Red River Settlement in early 1844. Garrioch was working with James Sinclair to import goods from St. Paul into Red River, and helped establish the regular cart trail between the two settlements.

"Jan. 9. .. .. ..I sent off Alexander Fisher to R. R. with some fur, for salt and other articles. – Not to be at the trouble of adverting again to the subject, I will leap twenty days before my diary and state, that he returned at the expiration of that period, having gone no further than the Back-feet Lake. Their horses could not get on, on account of the great depth of...

A child belonging to Baptiste Berzee fell into a dish of boiling fat, and died of it in ten days after.

30. .. .. .. .. I traded 84 rats, 8 swans and 2 dozen skins today. For the last articles I gave one of only two blankets I was worth. Thank heaven I still have a blanket to put under me and a robe above me.

February 3. .. .. Another child of Peru Lavalle's died of the scarlet fever.

5. .. .. .. .. The wife of Lagrise died of the scarlet fever, after an illness of only four days.

10. .. .. .. .. Sold one of my coats for four robes. I still have three remaining, thank fortune."




Other Related Material


Read more excerpts about Red River - enter 'Red River' in the search box to your left.

Check the Beaver Index - e.g., From Red River to the Columbia: The Story of a Migration, by W.J. Betts, Spring 1971; Routes through the Rockies and West of the Mountains – James Sinclair and the Hudson's Bay Company, by I.M. Spry, Autumn 1963.

Read more about James Sinclair in the Dictionary of Canadian Biography Online.




Did You Know?


Although Sinclair and Garrioch had refused opportunities to smuggle furs across the international border, the HBC strongly suspected them of engaging in such illegal activity and later in 1844 cancelled the freighting contracts it had signed with the two merchants and their partners.

Sinclair and Garrioch tried to sue the HBC over the broken contracts and also resisted the HBC's attempts to impose customs duties on goods imported from St. Paul. Many non-HBC merchants, not just Sinclair and Garrioch, felt that the HBC had little or no right to apply tariffs to imports.

In the end, the two merchants did begin to smuggle furs across the international border, either because they felt justified after the HBC's wrongful accusations and reneged contract, or because they could simply profit by it.