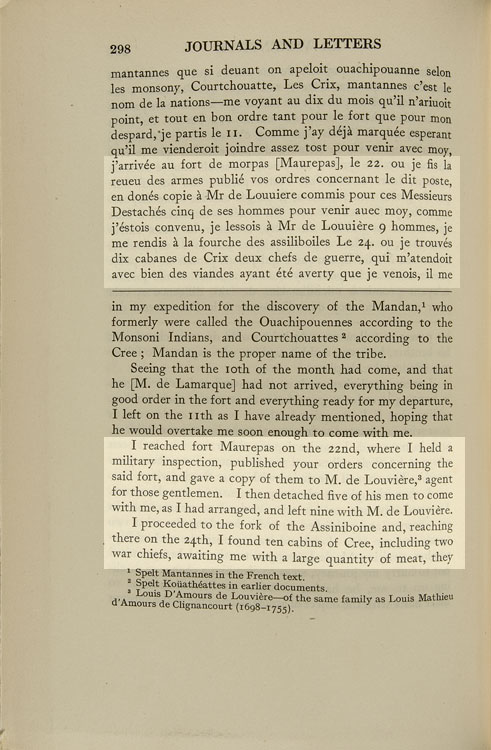 | | |
| --- | --- |
| Author: | Pierre Gaultier de Varennes de la Vérendrye and his sons |
| Title: | Journals and Letters of Pierre Gaultier de Varennes de la Vérendrye and His Sons |
| Publisher: | The Champlain Society, Toronto |
| Year Published: | 1927 |
| Copyright Holder: | Image courtesy of The Champlain Society |


Pierre Gaultier de Varennes, Sieur de la Verendrye (1685-1749), was a French military officer who succeeded his brother as commandant of the great fur-trading area north of Lake Superior.

He was the first French trader to establish posts west of the height of land, and built a string of posts up the Saskatchewan River valley.

This journal is in the form of a letter to the governor of New France, the Marquis de Beauharnois July 20, 1738-May 1739 [p298-300, 2nd pgh: "I reached Fort Maurepas... pleased them exceedingly."]

"I reached Fort Maurepas on the 22nd [September], where I held a military inspection, published your orders concerning the said fort, and gave a copy of them to M. de Louviere, agent for those gentlemen. I then detached five of his men to come with me, as I had arranged, and left nine with M. de Louviere.

I proceeded to the fork of the Assiniboine and, reaching there on the 24th, I found ten cabins of Cree, including two war chiefs, awaiting me with a large quantity of meat, they having been notified of my coming.

They begged me to stay with them for a while, so that they might have the pleasure of seeing and entertaining us. I agreed to do so, being glad of a chance of talking to them.

I got the two chiefs to come to my tent. I knew that they went every year to the English post, and that one of them, according to a report made to me, had received a collar from the English together with a present as an inducement to do some bad turn to the French.

I told the one who had been accused all that had been said to me about him. I had the honour to write you last year from Michilimackinac an account of the rumours that were current on this subject.

He replied: 'My Father, I know that there are a lot of envious people who talk against me. I have not been to the English for the last six years, but in recent years when the French abandoned us I did send there : we had to have our needs supplied. Ask those who went there for me, and who are here now, if they ever heard anything like that spoken of.

I assure you that the Englishman is quiet and does not talk of the Frenchman. They are liars who have set those stories afloat. You will know the truth of the matter later. As long as the Frenchman remains in our lands we promise you not to go elsewhere.'

I made them a little present to encourage them to keep their promises, and went over what I had said to the others both in regard to your orders and to general news. Our old man then gave them a great account of his journey which pleased them exceedingly."




Other Related Material


Read more about the Verendryes - enter 'Verendrye' in the search box to your left.

Check the Beaver Index - type 'Verendrye' in the keyword box.




Did You Know?


The chief whom La Verendrye accused of trading with the English discouraged him from travelling up the Assiniboine River, warning him that the people he would meet (the Assiniboine) did not know how to kill beaver and wore buffalo hides as clothing;

La Verendrye replied that he was determined to go and that he would teach the Assiniboine how to hunt beaver.