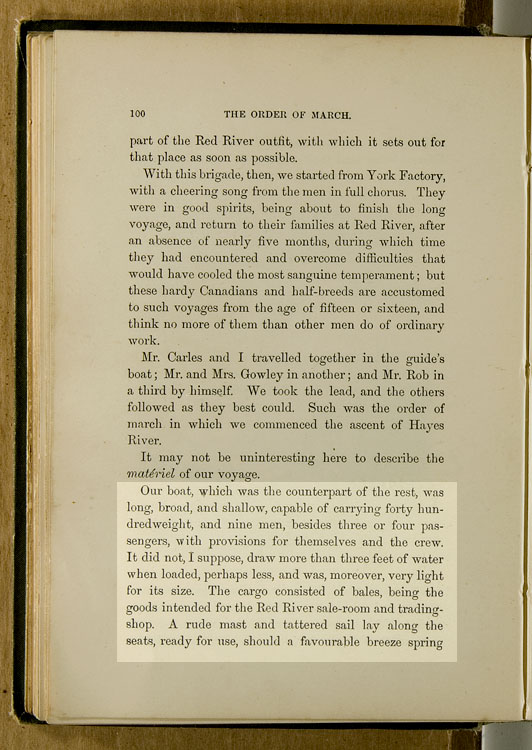 | | |
| --- | --- |
| Author: | Robert Michael Ballantyne |
| Title: | Every-day Life in the Wilds of North America |
| Year Published: | 1848 |
| Copyright Holder: | Expired; no restrictions on use. |


Robert Michael Ballantyne (1825-1894) joined the HBC as an apprentice clerk in 1841 at the age of 16. During his six years in the fur trade, he served at Upper Fort Garry, Norway House, York Factory, and Tadoussac.

Although not a very good clerk, he loved the wilderness and wrote long descriptive letters home to his mother in Scotland.

This description of York boats, which in the 1800s replaced birchbark canoes wherever rivers and lakes allowed, comes from his reminiscinces of fur trade life, Hudson's Bay, or, Every-day life in the wilds of North America, p100-101.

"Our boat, which was the counterpart of the rest, was long, broad, and shallow, capable of carrying forty hundredweight, and nine men, besides three or four passengers, with provisions for themselves and the crew. It did not, I suppose, draw more than three feet of water when loaded, perhaps less, and was, moreover, very light for its size.

The cargo consisted of bales, being the goods intended for the Red River sale-room and trading-shop. A rude mast and tattered sail lay along the seats, ready for use, should a favourable breeze spring up; but this seldom occurred, the oars being our chief dependence during the greater part of the voyage."




Other Related Material


What does a York Boat look like?

Read excerpts from Robert's writings - enter 'Ballantyne' in the search box to your left.

What did Robert Ballantyne look like?

Which HBC calendar painting includes Robert Ballantyne?

Check the Beaver Index - e.g., Christmas: York Factory, by Robert Ballantyne, December 1924 and Christmas on Hudson Bay, Winter 1958.





Did You Know?




The HBC's boatbuilders were mostly men from the Orkney islands, north of Scotland. The boats they built (they were never called York boats during the days of the fur trade) closely resembled the fishing boats used in those islands, which in turn were based on the design of Viking longships! York boats are now built and raced by several aboriginal communities in northern Ontario and northern Manitoba.