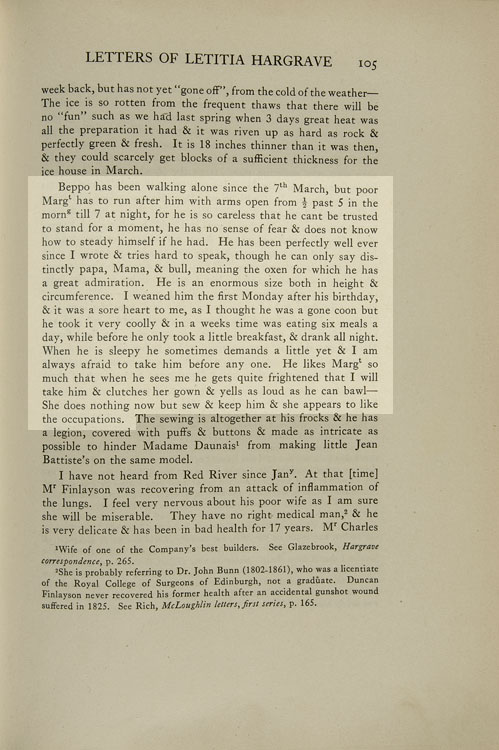 | | |
| --- | --- |
| Author: | Letitia Hargrave |
| Title: | The Letters of Letitia Hargrave |
| Publisher: | The Champlain Society, Toronto |
| Year Published: | 1947 |
| Copyright Holder: | The Champlain Society |


Letitia Hargrave nee MacTavish (1813-1854) was the daughter of Sheriff Dugald MacTavish and Letitia Lockhart. In 1840, she married James Hargrave, Chief Trader for the HBC, and left Scotland for York Factory.

The letters Letitia wrote to family and friends provide us with observations of daily life that differ from the typical post journals of that time which were written by men.

Her correspondence is also recognized for its importance as being one of the earliest for pioneer women in the fur trade in Western Canada. Through her letters, we can see her mature from a gawking and sea-sick newcomer to a shrewd and experienced observer of fur trade life.

14-16 May, 1842. To Mrs. MacTavish, describing the health and growth of son Joseph. P105, 1st pgh: Beppo…the occupations."

"Beppo has been walking alone since the 7th March, but poor Margaret has to run after him with arms open from ½ past 5 in the morning till 7 at night, for he is so careless that he cant be trusted to stand for a moment, he has no sense of fear and does not know how to steady himself If he had. He has been perfectly well ever since I wrote and tries hard to speak, though he can only say distinctly papa, Mama, and bull, meaning the oxen for which he has a great admiration.

He is an enormous size both in height and circumference. I weaned him the first Monday after his birthday, and it was a sore heart to me, as I thought he was a gone coon but he took it very coolly and in a weeks time was eating six meals a day, while before he only took a little breakfast, and drank all night. When he is sleepy he sometimes demands a little yet and I am always afraid to take him before any one.

He likes Margaret so much that when he sees me he gets quite frightened that I will take him and clutches her gown and yells as loud as he can bawl – She does nothing now but sew and keep him and she appears to like the occupations."




Other Related Material


Read excerpts from Letitia's letters - enter 'Letitia' in the search box to your left.

What does Letitia Hargrave look like?

What does Joseph James Hargrave look like?

Check the Beaver Index - e.g., type in women, children, health, etc.





Did You Know?


The Hargraves returned to Scotland on furlough in 1846. They placed Joseph James in a school in St. Andrew's, where he was joined by his younger sister, Letitia Lockhart (b. 1844) in 1851. Joseph James completed training as a surveyor in 1859, and in 1861 returned to the land of his birth as an apprentice clerk with the HBC.

He initially served as secretary to his uncle William (by then Governor of Assiniboia and of Rupert's Land), and eventually rose to the rank of chief trader; he was also active as a journalist and businessman in Winnipeg before he retired to Montreal in 1889. He returned to Scotland in 1894, and died in Edinburgh later that year.