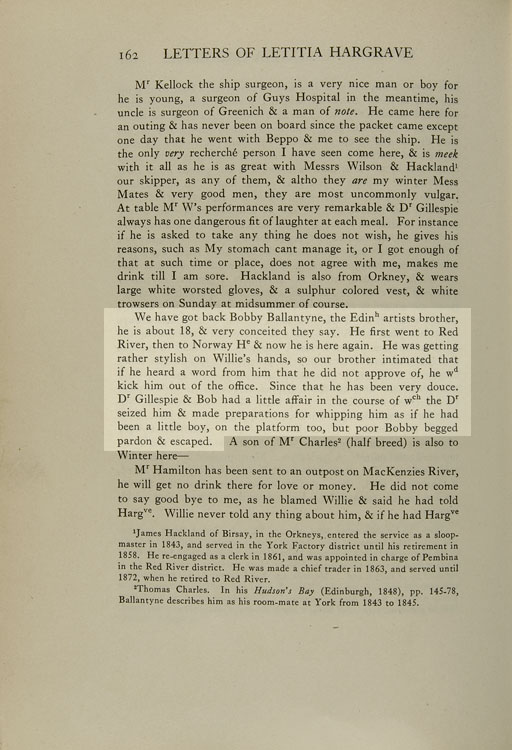 | | |
| --- | --- |
| Author: | Letitia Hargrave |
| Title: | The Letters of Letitia Hargrave |
| Publisher: | The Champlain Society, Toronto |
| Year Published: | 1947 |
| Copyright Holder: | Image courtesy of The Champlain Society |


Letitia Hargrave nee MacTavish (1813-1854) was the daughter of Sheriff Dugald MacTavish and Letitia Lockhart. In 1840, she married James Hargrave, Chief Trader for the HBC, and left Scotland for York Factory.

The letters Letitia wrote to family and friends provide us with observations of daily life that differ from the typical post journals of that time which were written by men.

Her correspondence is also recognized for its importance as being one of the earliest for pioneer women in the fur trade in Western Canada. Through her letters, we can see her mature from a gawking and sea-sick newcomer to a shrewd and experienced observer of fur trade life.

10 September, 1843. To her sister, Florence MacTavish, describing Ballantyne's return to York Factory. P162, 2nd pgh: "We have got back… pardon and escaped."

"We have got back Bobby Ballantyne, the Edinburgh artists brother, he is about 18, and very conceited they say. He first went to Red River, then to Norway House and now he is here again. He was getting rather stylish on Willie's hands, so our brother intimated that if he heard a word from him that he did not approve of, he would kick him out of the office.

Since that he has been very douce. Dr Gillespie and Bob had a little affair in the course of which the Dr seized him and made preparations for whipping him as if he had been a little boy, on the platform too, but poor Bobby begged pardon and escaped."




Other Related Material


Read excerpts from Letitia's letters - enter 'Letitia' in the search box to your left.

Read what Ballantyne says about Letitia - enter 'Ballantyne' in the search box to your left.

What does Letitia Hargrave look like?

Check the Beaver Index - e.g., type in apprentices, Ballantyne, etc.