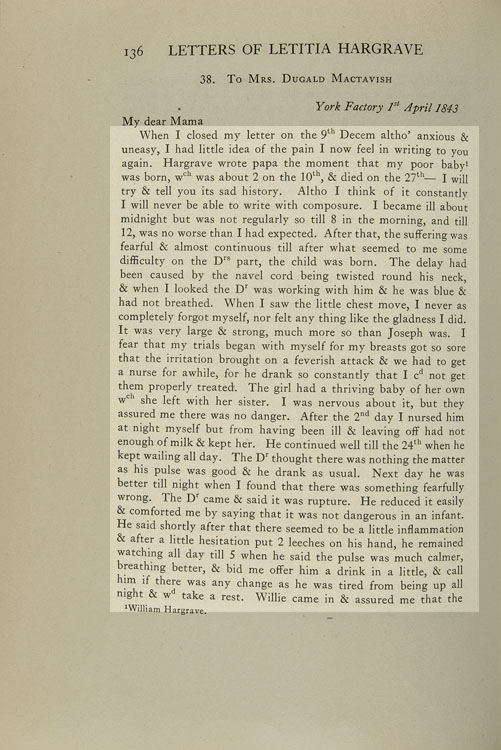 | | |
| --- | --- |
| Author: | Letitia Hargrave |
| Title: | The Letters of Letitia Hargrave |
| Publisher: | The Champlain Society, Toronto |
| Year Published: | 1947 |
| Copyright Holder: | Image courtesy of The Champlain Society |


Letitia Hargrave nee MacTavish (1813-1854) was the daughter of Sheriff Dugald MacTavish and Letitia Lockhart. In 1840, she married James Hargrave, Chief Trader for the HBC, and left Scotland for York Factory.

The letters Letitia wrote to family and friends provide us with observations of daily life that differ from the typical post journals of that time which were written by men.

Her correspondence is also recognized for its importance as being one of the earliest for pioneer women in the fur trade in Western Canada. Through her letters, we can see her mature from a gawking and sea-sick newcomer to a shrewd and experienced observer of fur trade life.

1 April, 1843. This letter to her mother describes the birth and death of her second son, William, in December 1842. p136-137, 1st pgh: "When I closed… poor Mama."

"When I closed my letter on the 9th December altho' anxious and uneasy, I had little idea of the pain I now feel in writing to you again. Hargrave wrote papa the moment that my poor baby was born, which was about 2 on the 10th, and died on the 27th- I will try and tell you its sad history.

Altho I think of it constantly I will never be able to write with composure. I became ill about midnight but was not regularly so till 8 in the morning, and till 12, was no worse than I had expected. After that, the suffering was fearful and almost continuous till after what seemed to me some difficulty on the Drs part, the child was born.

The delay had been caused by the navel cord being twisted around his neck, and when I looked the Dr was working with him and he was blue and had not breathed. When I saw the little chest move, I never as completely forgot myself, nor felt any thing like the gladness I did. It was very large and strong, much more so than Joseph was.

I fear that my trials began with myself for my breasts got so sore that the irritation brought on a feverish attack and we had to get a nurse for awhile, for he drank so constantly that I could not get them properly treated. The girl had a thriving baby of her own which she left with her sister. I was nervous about it, but they assured me there was no danger. After the 2nd day I nursed him at night myself but from having been ill and leaving off had not enough of milk and kept her.

He continued well ill the 24th when he kept wailing all day. The Dr thought there was nothing the matter as his pulse was good and he drank as usual. Next day he was better till night when I found that there was something fearfully wrong. The Dr came and said it was rupture. He reduced it easily and comforted me by saying that it was not dangerous in an infant. He said shortly after that there seemed to be a little inflammation and after a little hesitation put 2 leeches on his hand, he remained watching all day till 5 when he said the pulse was much calmer, breathing better, and bid me offer him a drink in a little, and call him if there was any change as he was tired from being up all night and would take a rest.

Willie came in and assured me that the complaint was so rapid that he must be recovering and told me that it was very common here that Munroes whole family were born with hernia and that men and boys of them were strong. He left me along with Hargrave quite satisfied that danger was over. The child on my knee, Margaret lay down to hush Joseph and they fell asleep together – I felt babys hands rather cold about 9 and rose from the stove to et some more to put round him when shortly after he gave a sharp cry and Margaret awoke. It was the first time he had cried for 8 hours and was so peculiar that she ran for Hargrave and the Dr.

I soon found that there was no hope. They took it from me and I only recollect thinking of every thing in the world but it till I saw Willie carry him out of the room I don't know when. I asked the Dr next day if I had been too late of sending for him but he said no, he had done all he could, and hoped from several symptoms particularly by its bowels being very open, that it would have recovered.

Poor Hargrave was terribly distressed, but he soon got well again. I thought I never [would]. The first thing that roused me was an attack of pains in the nerves like Tic Doloureux. I have lain for 36 hours without stirring or drawing my breath further than was absolutely necessary. This remained for a month and went off gradually.

We have all been perfectly well for 6 weeks past, Beppo growing in mind and body. He has known all his large letters since the end of January and recites with great emphasis all the nursery rhymes he has an opportunity of acquiring. Poor thing he was so frightened and perplexed by the disappearance of his little brother. He used to come looking so bewildered to my bed side and look anxiously for it – None baby, none baby, poor Mama."




Other Related Material


Read excerpts from Letitia's letters - enter 'Letitia' in the search box to your left.

What does Letitia Hargrave look like?

Check the Beaver Index - e.g., type in women, children, health, etc.





Did You Know?




'Beppo' was one of Letitia Hargrave's nicknames for her son, Joseph James.