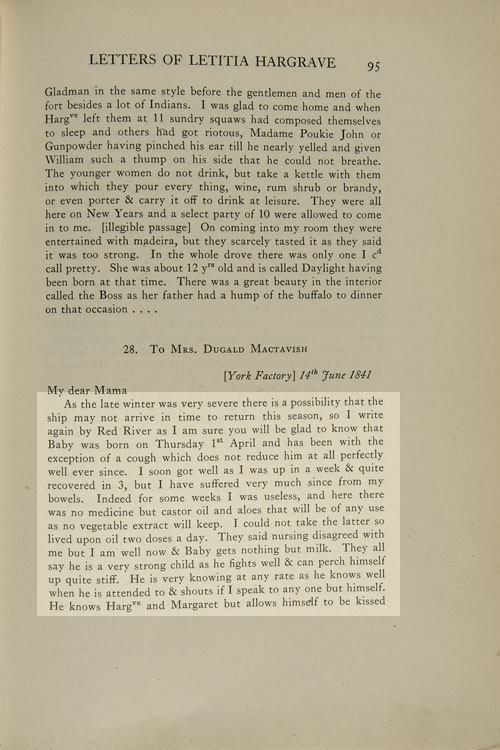 | | |
| --- | --- |
| Author: | Letitia Hargrave |
| Title: | The Letters of Letitia Hargrave |
| Publisher: | The Champlain Society, Toronto |
| Year Published: | 1947 |
| Copyright Holder: | Image courtesy of The Champlain Society |


Letitia Hargrave nee MacTavish (1813-1854) was the daughter of Sheriff Dugald MacTavish and Letitia Lockhart. In 1840, she married James Hargrave, Chief Trader for the HBC, and left Scotland for York Factory.

The letters Letitia wrote to family and friends provide us with observations of daily life that differ from the typical post journals of that time which were written by men.

Her correspondence is also recognized for its importance as being one of the earliest for pioneer women in the fur trade in Western Canada. Through her letters, we can see her mature from a gawking and sea-sick newcomer to a shrewd and experienced observer of fur trade life.

14 June, 1841. This is from a letter to her mother after the birth of her first child, Joseph James. p 95-96, 2nd pgh: "As the late winter… tremendous disturbance."

"As the late winter was very severe there is a possibility that the ship may not arrive in time to return this season, so I write again by Red River as I am sure you will be glad to know that Baby was born on Thursday 1st April and has been with the exception of a cough which does not reduce him at all perfectly well ever since.

I soon got well as I was up in a week and quite recovered in 3, but I have suffered very much since from my bowels. Indeed for some weeks I was useless, and here there was no medicine but castor oil and aloes that will be of any use as no vegetable extract will keep. I could not take the latter so lived upon oil two doses a day.

They said nursing disagreed with me but I am well now and Baby gets nothing but milk. They all say he is a very strong child as he fights well and can perch himself up quite stiff. He is very knowing at any rate as he knows well when he is attended to and shouts if I speak to any one but himself. He knows Hargrave and Margaret but allows himself to be kissed by all the squaws, who exclaim when they meet him, "Very fat! Very white!"

A band of them came the day after he was born to ask for me and to see the Speaking Cushion (which is son) and were surprised that they were not admitted to our room. Mrs Gladman was very kind, she came over when I was ill and staid two days, nursed Baby for nearly a week as his first exploit was to insist on drink before he was dressed so the Dr said I had better let her give him some.

The consequence was that his stomach was stretched to such a width that my life was a burden to me for a fortnight when he took a fancy to walking up and down the room so that we are kept marching all the time he is not asleep or drinking. He is a tremendous screamer and will not allow himself to be dressed or even taken out of his tub without a tremendous disturbance."




Other Related Material


Read excerpts from Letitia's letters - enter 'Letitia' in the search box to your left.

What does Letitia Hargrave look like?

Check the Beaver Index - e.g., type in children, births, health, etc.





Did You Know?


Mrs. Gladman was Harriett Vincent, the Métis wife of Chief Trade George Gladman and godmother of young Joseph James.

Letitia Hargrave first described Mrs. Gladman as "as large as a lady can be and dressed to death in a Waterloo blue Merino, moccasins, a straw bonnet lined with lilac satin with a profusion of lilac blue and white ribbon and a cap border of very broad blonde, the same depth all round, no gloves and a silk shawl, the old fashion white around and green pattern."