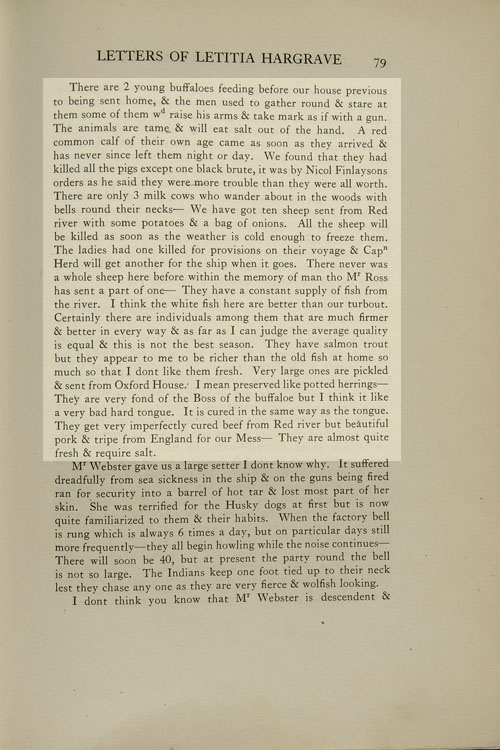 | | |
| --- | --- |
| Author: | Letitia Hargrave |
| Title: | The Letters of Letitia Hargrave |
| Publisher: | The Champlain Society, Toronto |
| Year Published: | 1947 |
| Copyright Holder: | Image courtesy of The Champlain Society |


Letitia Hargrave nee MacTavish (1813-1854) was the daughter of Sheriff Dugald MacTavish and Letitia Lockhart. In 1840, she married James Hargrave, Chief Trader for the HBC, and left Scotland for York Factory.

The letters Letitia wrote to family and friends provide us with observations of daily life that differ from the typical post journals of that time which were written by men. Her correspondence is also recognized for its importance as being one of the earliest for pioneer women in the fur trade in Western Canada. Through her letters, we can see her mature from a gawking and sea-sick newcomer to a shrewd and experienced observer of fur trade life.

This is an excerpt from a letter to her father, Dugald MacTavish Sr., written on 2 September, 1840, giving details of livestock and diet at York Factory. It appears on page 79, 1st pgh: "There are 2 young… salt."

"There are 2 young buffaloes feeding before our house previous to being sent home, and the men used to gather round and stare at them some of them would raise his arms and take mark as if with a gun. The animals are tame and will eat salt out of the hand. A red common calf of their own age came as soon as they arrived and has never since left them night or day.

We found that they had killed all the pigs except one black brute, it was by Nicol Finlaysons orders as he said they were more trouble than they were all worth. There are only 3 milk cows who wander about in the woods with bells round their necks – We have got ten sheep sent from Red river with some potatoes and a bag of onions. All the sheep will be killed as soon as the weather is cold enough to freeze them. The ladies had one killed for provisions on their voyage and Captain Herd will get another for the ship when it goes. There never was a whole sheep here before within the memory of man tho Mr. Ross has sent a part of one -

They have a constant supply of fish from the river. I think the white fish here are better than our turbout. Certainly there are individuals among them that are much firmer and better in every way and as far as I can judge the average quality is equal and this is not the best season. They have salmon trout but they appear to me to be richer than the old fish at home so much so that I don't like them fresh. Very large ones are pickled and sent from Oxford House. I mean preserved like potted herrings –

They are very fond of the Boss of the buffaloe but I think it like a very bad hard tongue. It is cured in the same way as the tongue. They get very imperfectly cured beef from Red river but beautiful pork and tripe from England for our Mess – They are almost quite fresh and require salt."




Other Related Material


Read excerpts from Letitia's letters - enter 'Letitia' in the search box to your left.

What does Letitia Hargrave look like?

Check the Beaver Index - e.g., type in nutrition, buffalo, bison, etc.





Did You Know?


As the wife of a high-ranking Company officer, Letitia Hargrave's diet contained a a greater proportion of imported food than was the case for lower-ranking men and their families.

However, as this excerpt suggests, all ranks of HBC society relied heavily on 'country produce' like buffalo and local fish. Fur trade meals were usually large (even the upper-class ladies had large appetites), but were often monotonous and lacking in green vegetables.