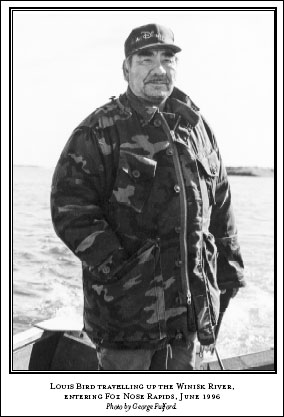 Speaker(s):
Louis Bird
Year Recorded:
March 5, 2003
Transcribers:
Jennifer Orr; editing by Tanja Hutter. This audio clip originally appears on OurVoices.ca under the title 0138 - Fish Nets.

L'audio en français n'est pas disponible.
Location:
Recorded in English, in Peawanuck, Ontario
Copyright Holder:
Louis Bird & University of Winnipeg (OurVoices.ca).
Photo: George Fulford
Listen To Audio File: Part I
Listen To Audio File: Part II


[cont'd from Tales of an HBC Captain Part 1]

[audio 1 - fastforward to 4:15]
"Of those who have sailed those York boats around the Hudson Bay and James Bay, there was a man, who was known to be called Bernard Gull, in English. But his name in Cree was Pe-nas Ki-yask – a gull, seagull. So he had been assigned to be a captain to one of those smaller York boats, which was about thirty-five feet by ten feet wide and probably seven feet or eight feet deep, from the keel to the top. [end of audio 1]

[audio 2]
But he do take a very shallow water to and when they are not loaded.

And it was this kind of boat that mister Bernard Gull, he used to captain… and he beached three of them. The first one in between York Factory and Winisk area. All three, he wrecked them into the shore. It has been said, on the last one, that he did it on purpose, because he wanted to. He wanted the Hudson Bay goods to be unloaded on the halfway-through point, because it was there that the fox hunting was very plentiful. Foxes were that in that year; good foxing hunting there.

It was in that period when the beaver will dam and most people were just fox hunting along the Hudson Bay. So some people say he did it on purpose. He just made it happen, so the goods that were washed ashore, you know, he kept them there. And he managed these things to sell for the Hudson Bay as he did before, because he used to be, he used to keep the few Hudson Bay goods in Winisk.

For the Hudson Bay company make a very small food item, basic, a process food like lard or flour, or a little bit of this. Mostly, black powder and shots for gun, and a few items. So he did it for certain years as he was, the same time as a captain for these smaller York boats. There is a place there at the mouth of the Winisk where he used to beach his boat and drag it up to the shore to winterize.

There's French stories about this man too, but he was a Hudson Bay man. He was one of those who were considered probably as home guard or Hudson Bay employee, without much wages. So that is a story about the York boats and also the people who manned them, and a person who made to be a captain of a boat.

So there was another man that I want to talk about now…" [end of audio 2]






Other Related Material


What does a York boat look like?

Learn more about the aboriginal people who helped establish the HBC - enter 'Louis Bird' in the search box to your left.

Who is Louis Bird?

Visit OurVoices.ca - for more stories (beyond the fur trade) by Louis Bird, available in Cree and English.